Use of Billboards to Advertise a Law Practice
by Jamison Koehler on December 14, 2009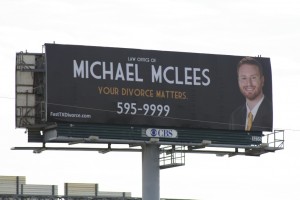 In the movie "I Love You, Man," Paul Rudd plays a bland, well-meaning real estate broker named Peter Klaven who, among other things, can't seem to get his business off the ground.  A friend tricks him into putting up billboards all over the city, and Klavens' business flourishes.
While I have considered a number of options for marketing Koehler Law in Washington, D.C., the use of billboards to advertise a criminal and DWI defense practice has never been one of them.  This is not to say, however, that billboards might not be a wise choice for other practice areas in other cities.  Billboards might make particularly good sense for a high volume practice area.
Over the last couple of months, I have been tracking the progress of Texas lawyer Michael McLees, who recently set up his own law firm to handle uncontested divorces in San Antonio.  The Law Office of Michael McLees charges $1,000 for an uncontested divorce not involving children, $1,250 for an uncontested divorce involving children, and $3,000 for a "collaborative" divorce (in which, I assume, the firm represents both parties).  I became acquainted with McLees through the ABA listserv Solosez for solo law firms, and, because his practice was in a similar stage of infancy as my own, I have been following his website and blog ever since.
Last week McLees announced that he set up billboards in San Antonio to advertise his practice.  He says the billboard is 14 feet tall and costs him a little bit over a thousand dollars a month.  Earlier, McLees had asked readers for input in selecting his law firm's slogan/tagline/motto.  I am proud to say that it was I who suggested "Divorce Matters," which McLees amended to "YOUR Divorce Matters."
We will continue to follow McLees' success in setting up his practice, and wish him all the luck.